The official opening in July 2014 of the Military Intelligence Museum's interactive exhibit telling the story of the Intelligence Corps in and around the First World War saw the first of a number of projects in their strategic plan come to life.
The exhibit combines a flexible display space and digital exhibit, designed to have a lifecycle of a minimum of eight years. During this time it will interpret the role that military intelligence played during the years of the First World War and its aftermath, from 1914 to 1922.
The display of physical objects will change each year with a different theme starting with the birth of the Military Intelligence Corps and later exploring topics including espionage, counter-espionage, the frontline, signals intelligence and aerial photography.
Screensaver
1914 Timeline
 Search menu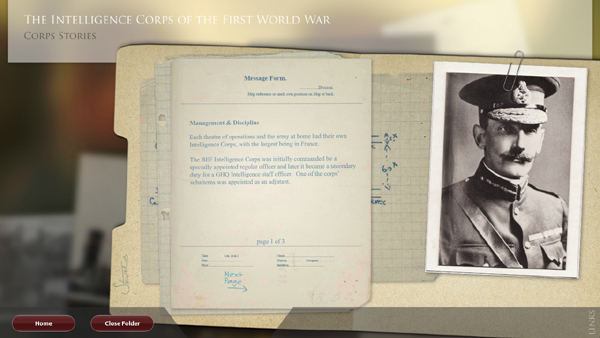 Corps Stories
Individual stories
Images from WW1the First World War
New content will be added accordingly to the digital exhibit over time to build a comprehensive history of military intelligence during WW1 and beyond.
We have been working with the Military Intelligence Museum for some time on their strategic plan.
The interactive software will provide a framework within which a database of archive records can be accessed. This database will be built up over time, providing flexibility to modify existing records as well as adding new content.