St Martin's Church has changed a lot since we first put in two time lapse cameras to capture its restoration work in progress. Back then, unique wall paintings by mid-20th century artist Evelyn Gibbs, believed to be the last surviving examples of her large scale work, looked like this…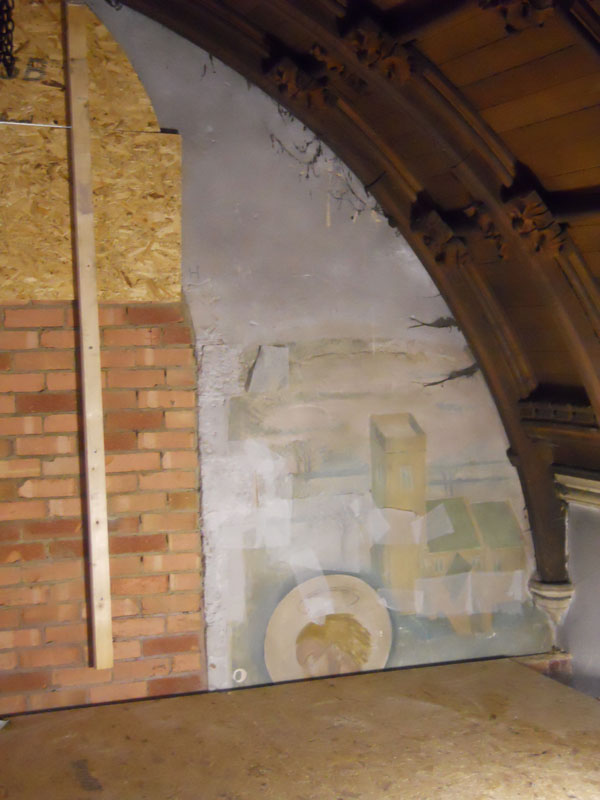 Now they are much more impressive…
The Angel Gabriel visits Mary, with Bilborough and St Martin's church in the background
Time lapse photography
We captured work on the restoration with two cameras. One looked down from the eaves, eight metres up, onto the floor of the church recording the restoration activity. The second, of course, was focused on those murals the restoration of which is of national cultural interest.
The time lapse photography will be used by St Martin's as part of their community focused activity, demonstrating the latest development in the church's rich history.
Tablet Tour
The tablet tour allows visitors to explore 30 points of interest around the Grade II* listed building, including features of the church and developments throughout its history from its construction between 1350 and 1400 through extensions and restoration work up until the present day.
As the visitor explores the church, a gentle tap of the tablet at an NFC tag – attractively designed in wood to reflect decorative features from the church's 19th century renovations – at a "star item", presents text, graphics and audio information about it.
NFC tags
19th century renovation of the pews
"Pop-up" interactive lectern
As part of the Hidden Treasures project's remit to establish St Martin's as a focal point for the local community, the story of the church is also told on a mobile interactive exhibit with a larger screen.
This will go on tour around the local area and throughout Nottinghamshire, visiting schools and community groups, to spread the word about the history of the church and its growing role in the local community today.
This has been a really exciting project to work on, seeing a small local church embrace a flexible way of using technology to take historical and cultural interpretation to a wide audience. The ability to present a variety of media on different sized devices has given them opportunities that a purely static exhibition could not hope to meet.
The launch of this new era for the church, not so long ago in a sad state of disrepair, took place on Saturday 21st March 2015 and we were thrilled to be there.
Our new video captures what visitors thought about using the tablet tour…